Global markets, supply chains, digitalization and the demand for greater sustainability are presenting both opportunities and risks for industrial companies. Opportunities present themselves because new market niches and business areas are constantly emerging in this environment. Risks arise because developing products is becoming increasingly complex while the demands on product development are also mounting.
Nowadays, innovations have to be turned into marketable products incredibly quickly (in sometimes very volatile markets), have to gain rapid acceptance among customers and at the same time have to comply with numerous regulatory requirements.
Up to 75% Added Value Generated with OEM Partners
Industrial companies that want to be successful in this environment not only need excellent product ideas; they also have to position themselves intelligently from a strategic perspective. The automotive industry has long been regarded as a prime example of how companies with technical products can be successful in multi-layered markets. Its years of global growth and technical innovation wouldn't have been possible without a broad network of suppliers, whose share of a vehicle's added value now exceeds 75%.
As part of this collaboration, the automotive industry quickly learned that it must consider its suppliers as system partners. In other words, individual competencies are pooled to create a shared value chain for projects. For years, this strategic arrangement enabled the automotive industry to exploit the potential of its system partners as an additional competitive factor. It was only through these collaborations that the automotive industry was able to continually expand the performance spectrum of its products offered.
Successful OEM Partnerships Are Not a Foregone Conclusion
This successful model adopted by the automotive industry is no longer a secret. In recent years, industrial companies in many sectors have recognized that strategic cooperation with system partners who contribute components or modules to their products as original equipment manufacturers (OEMs) really does pay off. Analysts estimate that the global market for electronic manufacturing services will grow by an average of 6.8% to almost $800 billion by 2029.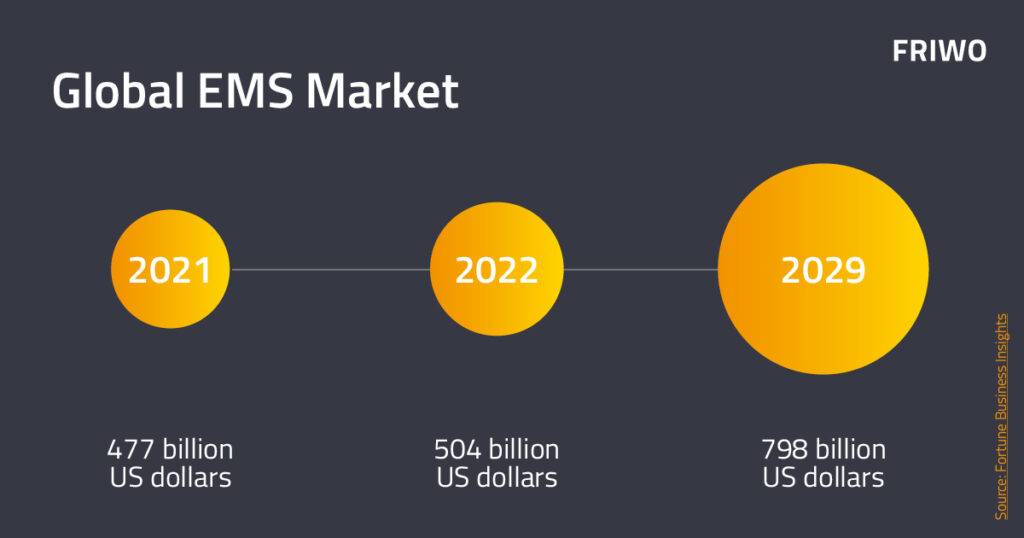 Entering into an OEM partnership means that two powerful companies bundle their resources and competencies in a very targeted manner when cooperating on individual projects. For this to work, the industrial company needs an OEM partner who can actually deliver in this regard. It's essential that the OEM partner brings the right know-how, product experience and the necessary infrastructure to the project. Provided these requirements are met, industrial companies benefit from OEM services on several levels.
First Benefit of the OEM Model: Better Time-to-Market
The speed at which a product has to be developed from the initial idea to market maturity has increased dramatically in recent years. Today, suppliers hardly have any time to develop complex products over a period of years. This is because new technologies and product ideas are now picked up very quickly by competitors and launched on the market. Those too late to the party, regardless of whether they have a well-developed product, are often overlooked by consumers. This is where an OEM partnership offers a major advantage for an industrial company.
After all, cooperating with an OEM means that the knowledge and skills of a competent system partner flow into the project from the very outset. This means that sub-areas can be covered in a completely different way during product development. The OEM partner can either bring solutions that have already been developed to market maturity into the project, draw on them to adapt them for the new product being developed, or use its capabilities to create appropriate solutions in a much more competent manner. This also minimizes project risks resulting from overly complex and lengthy planned or wrongly selected solution paths.
Second Benefit of the OEM Model: Better Solutions
By relying on an OEM, industrial companies are able to adopt better solutions and thus increase their chances of success on the market thanks to better products. Having a qualified OEM partner on board not only helps to minimize project risks; it also enables you to provide high-quality components and modules. OEM partners enhance the quality of the end product from the very outset, e.g. because right from the start it's possible to fall back on electronic components that have already been certified and proven in practice, such as a powerful battery.
OEM partnerships also have a further impact that shouldn't be underestimated, namely on product quality. The fact that the OEM contributes its expertise to the project means that the industrial company can devote its own resources much more effectively to its own strengths and thus develop superior solutions. What's more, product development in the cooperation benefits from the knowledge that the OEM brings to the partnership in technological interface areas. These synergies can affect both pure product development and production issues.
Third Benefit of the OEM Model: Lower Costs
As explained earlier on, the OEM brings its own capital into the value chain rather than simply entering the partnership empty-handed. This ranges from technical know-how and project experience to the existing infrastructure for the development, testing and production of important components as well as the possibility of providing completely developed solutions for the project.
For the industrial company, this eliminates numerous investment and follow-up costs. Among other things, these include the cost of recruiting suitably qualified personnel on the labor market and then training them, purchasing necessary equipment or new technical devices, building up production capacities and establishing workflows. Eliminating all these costs drastically reduces the industrial company's total cost of ownership (TCO).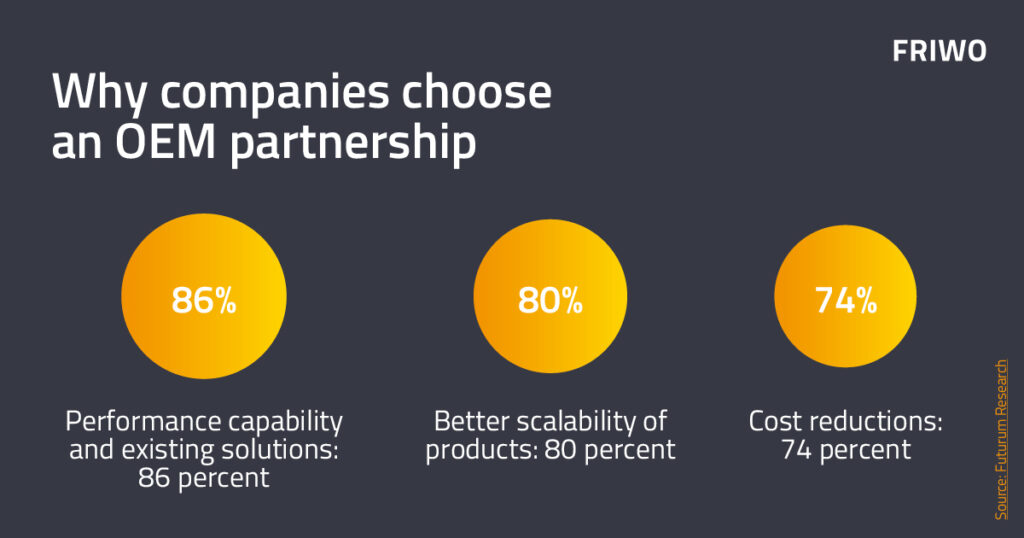 Greater Agility, Flexibility and Capability
From a strategic perspective, the example of the automotive industry can lead us off on the wrong track. After all, the automotive industry, which somewhat confusingly calls itself an OEM in its supplier model, consists of large financially powerful players who are extremely capable of acting. Yet although the OEM model was established by the automotive industry groups, it is actually SMEs that primarily reap the benefits of it.
Why is that? Well, the collaborative capabilities of an OEM partnership significantly reduce the importance of a company's capital size and strength. By using OEM services, industrial companies need far fewer resources to respond to trends and market changes. Smaller companies in particular can make the most of this reality for themselves and, thanks to an OEM partnership, leverage virtues such as agility and flexibility even more effectively in product development and the subsequent go-to-market.