Available in the standard portfolio are output powers of 7 W (5 V / 1.4 A, FOX6-XM-USB) and 12 W (5 V / 2.2 A, FOX12-XM-USB).
For optimal patient safety, the devices feature 2 x MOPP (Means of Patient Protection) protection, minimum leakage currents of ≤ 10 µA and double locking of the housing. An MTBF rate of 200,000 hours stands for a long operating and service life. In addition to patient safety, efficiency also plays a major role: with low standby losses of ≤ 0.09 W and high efficiency, the FOX device family also meets the high US energy efficiency standards according to DoE 2016 (Department of Energy) in the medical sector, although this segment is exempt from the regulations for the time being. For Europe, an adaptation of the guidelines to the US standard is expected in the near future – with FOX you are already on the safe side today!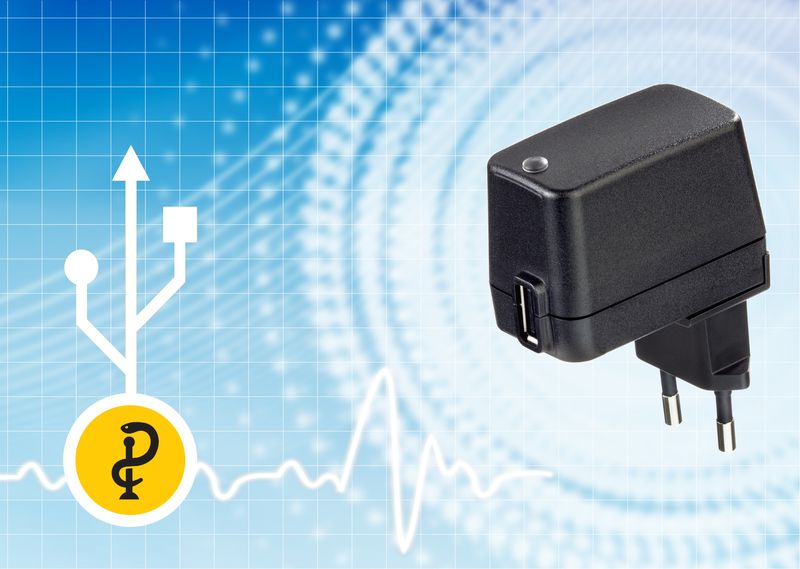 Compact dimensions of 57.5 x 31.5 x 41 mm combined with a low product weight of 50 gr. (FOX6-XM-USB) or 77.5 x 31.5 x 41 mm / 65 gr. (FOX12-XM-USB) also make it the optimal solution for mobile medical applications. Designed for worldwide usability, the devices feature a wide range input from 90 to 264 VAC as well as an interchangeable adapter system. As a special highlight, FRIWO also offers adapters with IP42 protection as optional accessories for the FOX system for the first time.
For more information about FRIWO and our products & services, click here.
Tags: USB, medical power supply, medical technology, leakage current, patient safety